Home
›
For AAT student members
›
Books to buy and sell
Sell - AAT - Foundation Certificate in Accounting level 2 - 2018/2019 - Kaplan
EmanuelaC
Posts: 3
AAT Student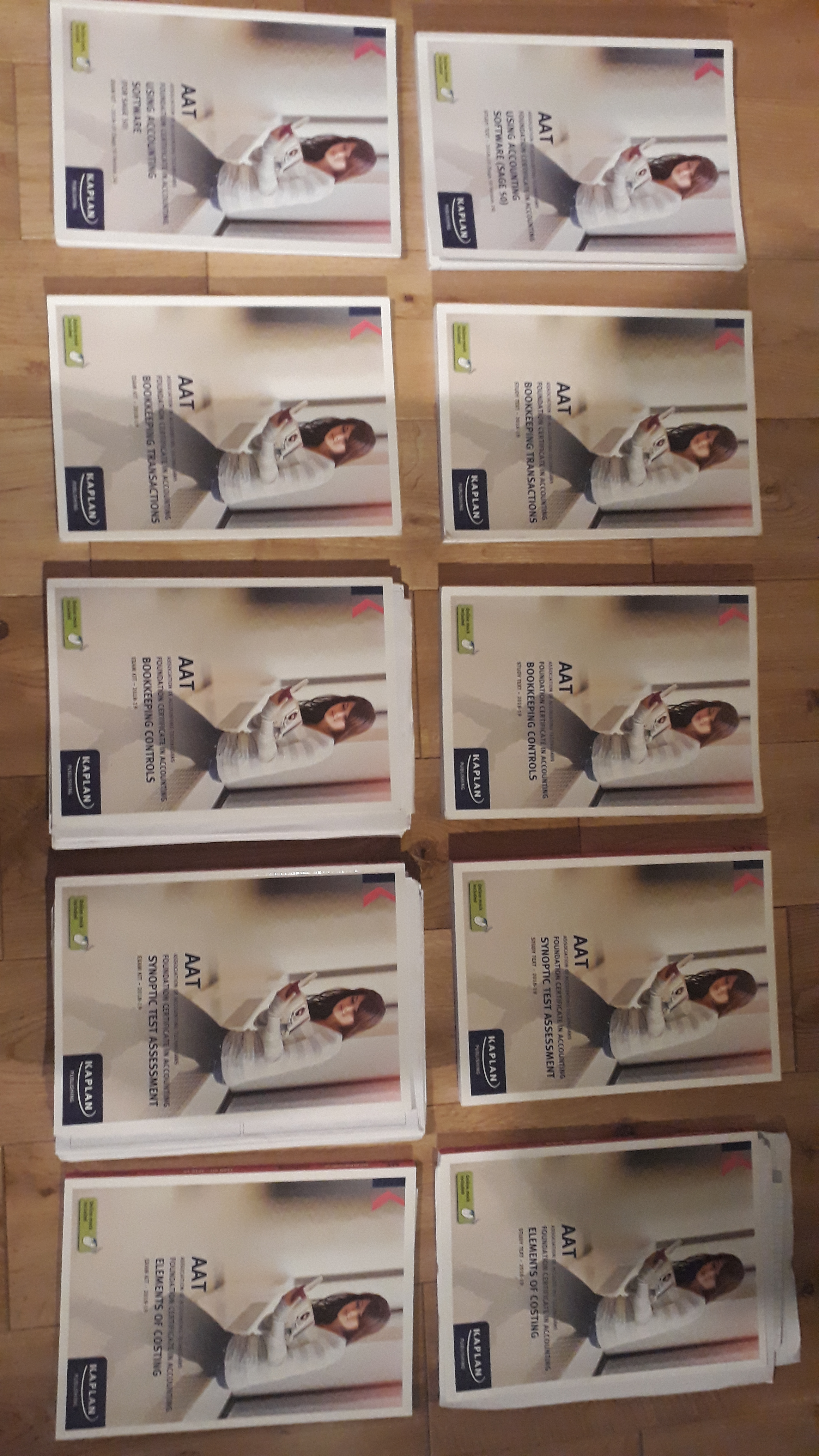 AAT Foundation Certificate in Accounting (Level 2):
Used but in very good condition.
Underlined and marked with pencil ( more or less like in the pic).
Last edition 2018/2019 by Kaplan.
Original price £18 for study text and £16 revision (exam) kit
For sale at £10 each or to £85 if you buy them all together.
1) Study Text - Elements of Costing (ELCO) - ISBN: 978-1-78740-261-4
(available electronic version of the book by MyKaplan code)
2) Revision Kit - Elements of Costing (ELCO) - ISBN: 978-1-78740-281-2
( no available electronic version of the book - Code used)
3) Study Text - Bookkeeping Transactions (BTRN) - ISBN: 978-1-78740-259-1
(available electronic version of the book by MyKaplan code)
4) Revision Kit -Bookkeeping Transactions (BTRN) - ISBN: 978-1-78740-279-9
(available electronic version of the book by MyKaplan code)
5) Study Text - Bookkeeping Controls (BKCL) - ISBN: 978-1-78740-260-7
(available electronic version of the book by MyKaplan code)
6) Revision Kit - Bookkeeping Controls (BKCL) - ISBN: 978-1-78740-280-5
(available electronic version of the book by MyKaplan code)
7) Study Text - Using Accounting Software (UACS) - for SageOne
ISBN: 978-1-784157982 (available electronic version of the book by MyKaplan code)
8) Revision Kit - Using Accounting Software (UACS) - for SageOne
ISBN: 9780857320339 (available electronic version of the book by MyKaplan code)
9) Study Text - Synoptic Assessment - ISBN: 978-1-78740-2836
( no available electronic version of the book - Code used)
10) Revision Kit- Synoptic Assessment - ISBN: 978-1-78740-2638
(no available electronic version of the book - Code used)
Price delivery 6£ in UK
possibility to collect them in Willesden Green - NW2 (London)